The Allure delivers enlightened style and a plush, fleeced tricot lining in the world's lightest certified snow helmet.
PRODUCT FEATURES-
Lightweight in-mold construction
Airflow climate control
9 vents
*MIPS system available in select colors
Self-adjusting lifestyle fit system
Snapfit SL2 earpads
AirEvac 2 ventilation
Removable goggle lock
Outdoor Tech™ audio systems available
LIFETIME WARRANTY
SIZING-
SMALL- 51-55CM
MEDIUM- 55-59CM
Today's riders are going faster, farther, and riding more aggressively than their predecessors. Tomorrow's riders will wear Smith.
To meet their challenges, it will require protection to be reinvented. What does "protection reinvented" mean? For Smith, it means that we will strive to create helmets that exceed safety standards. How will we do this? By focusing on the four types of impact: low speed, high speed, rotational, and multiple-impact.
Each of these impact types requires a different approach, a different philosophy, a different technology. To go forward, we are creating a Four Pillars of Design ethos. A belief in building the best helmet we can to meet as many of these pillars at one time as possible.
----------------------------------------Ultimate integration----------------------------------------------
At Smith, we design helmets and goggles to work together as a fully integrated system. For the helmet line, the most important factor in integration is the AirEvac ventilation system. This is the bridge that allows goggles and helmets to function as one system, venting warm moist air away from the goggles, through the helmet climate control system and ultimately away from the head.
PRECISE FIT-
Ultimate integration starts with the precise fit of the Smith goggle and helmet. Our helmets are designed to match the curvature of the goggle frame, eliminating "gaper gap" and allowing precise alignment between the helmet AirEvac and the goggle venting systems.
Airevac 2: Constant Airflow-
AirEvac 2 continues to drive the warm air away from the goggle through external vents and internal channels in the EPS liner. Internal airflow can be adjusted through the helmet's Regulator climate control system.
REAR EXHAUST VENTILATION-
The warm air that originally built up in the goggle has been forced out via the AirEvac ventilation system, has traveled through the AirEvac 2 EPS vent channels, and is now being exhausted at the furthest distance possible from the goggle. Ultimate integration between goggle and helmet from start to finish.
HYBRID SHELL CONSTRUCTION-
Smith's Hybrid Shell construction combines separate lightweight and durable shells to create an entirely new helmet category. By fusing our tough bombshell ABS construction with flyweight In-Mold technology, our Hybrid Shell construction optimizes the favorable traits of each material in this revolutionary process. The result is a modern design that provides a lightweight, low profiles, perfectly fitting helmet. Hybrid Shell construction also creates a clean, smooth top surface by enabling the low profiles Regulator to function with reduced mass and volume.
MIPS technology-
Multi-directional impact protection system
MIPS is used to reduce the rotational forces to the brain in the case of an oblique impact. Smith helmets are created to absorb direct impacts very eff iciently and when combined with MIPS, Smith helmets absorb oblique forces better by allowing a small rotation of the outer shell relative to the liner.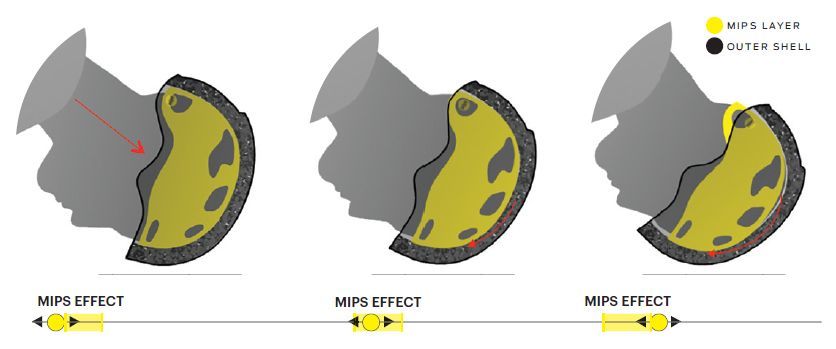 MIPS IN ACTION
When you fall to the ground at an angle rotational forces are generated. A helmet integrating MIPS technology creates a sliding layer between the outer shell and the head. This allows the helmet's outer shell to slide relative to the head when hitting the ground, so the rotational force is decreased, reducing the potential to damage your brain.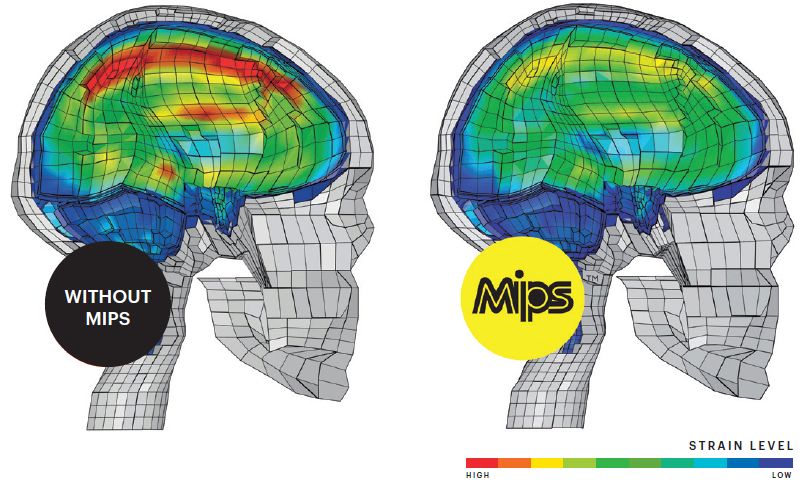 STRAIN LEVELS
Simulated deformation of the brain from angled impact when the user is wearing a helmet with and without MIPS.