Because stoke factor is gender-blind, we brought the Vantage Women's into the mix. Using Aerocore™ construction that features Koroyd®, it simultaneously maximizes full coverage protection and increased airflow. For the most custom fit, the Vantage Women's offers the women's specific X-Static lining, as well as the BOA® FS360 fit system, with a 360° halo design. Combine all this with the Smith pioneered AirEvac technology for goggle integration, and the Vangate Women's delivers the perfect blend of technology and style.
PRODUCT FEATURES-
Hybrid SL construction
Aerocore™ construction featuring Koroyd™
Low-profile dual regulator adjustable climate control
21 vents
*MIPS system available in select colors
Adjustable Boa® FS360 fit system
Women's X-Static performance lining
Snapfit SL2 earpads
AirEvac 2 ventilation
Removable ultra-light goggle lock
LIFETIME WARRANTY
SIZING-
SMALL- 51-55CM
MEDIUM- 55-59CM
Today's riders are going faster, farther, and riding more aggressively than their predecessors. Tomorrow's riders will wear Smith.
To meet their challenges, it will require protection to be reinvented. What does "protection reinvented" mean? For Smith, it means that we will strive to create helmets that exceed safety standards. How will we do this? By focusing on the four types of impact: low speed, high speed, rotational, and multiple-impact.
Each of these impact types requires a different approach, a different philosophy, a different technology. To go forward, we are creating a Four Pillars of Design ethos. A belief in building the best helmet we can to meet as many of these pillars at one time as possible.
----------------------------------------Ultimate integration----------------------------------------------
At Smith, we design helmets and goggles to work together as a fully integrated system. For the helmet line, the most important factor in integration is the AirEvac ventilation system. This is the bridge that allows goggles and helmets to function as one system, venting warm moist air away from the goggles, through the helmet climate control system and ultimately away from the head.
PRECISE FIT-
Ultimate integration starts with the precise fit of the Smith goggle and helmet. Our helmets are designed to match the curvature of the goggle frame, eliminating "gaper gap" and allowing precise alignment between the helmet AirEvac and the goggle venting systems.
Airevac 2: Constant Airflow-
AirEvac 2 continues to drive the warm air away from the goggle through external vents and internal channels in the EPS liner. Internal airflow can be adjusted through the helmet's Regulator climate control system.
REAR EXHAUST VENTILATION-
The warm air that originally built up in the goggle has been forced out via the AirEvac ventilation system, has traveled through the AirEvac 2 EPS vent channels, and is now being exhausted at the furthest distance possible from the goggle. Ultimate integration between goggle and helmet from start to finish.
HYBRID SHELL CONSTRUCTION-
Smith's Hybrid Shell construction combines separate lightweight and durable shells to create an entirely new helmet category. By fusing our tough bombshell ABS construction with flyweight In-Mold technology, our Hybrid Shell construction optimizes the favorable traits of each material in this revolutionary process. The result is a modern design that provides a lightweight, low profiles, perfectly fitting helmet. Hybrid Shell construction also creates a clean, smooth top surface by enabling the low profiles Regulator to function with reduced mass and volume.
Aerocore™ construction Featuring Koroyd®-
Smith's objective and design philosophy behind Aerocore™ construction is to increase airflow, improve temperature regulation resulting in fog-free vision and improve impact resistance. The objective was achieved through the combination of materials such as EPS and Koroyd®, a revolutionary new material that absorbs more energy upon impact when compared to international standards, while increasing airflow. Aerocore™ construction through the use of Koroyd® and EPS allows for more vents to be placed throughout the helmet without sacrificing protection and comfort.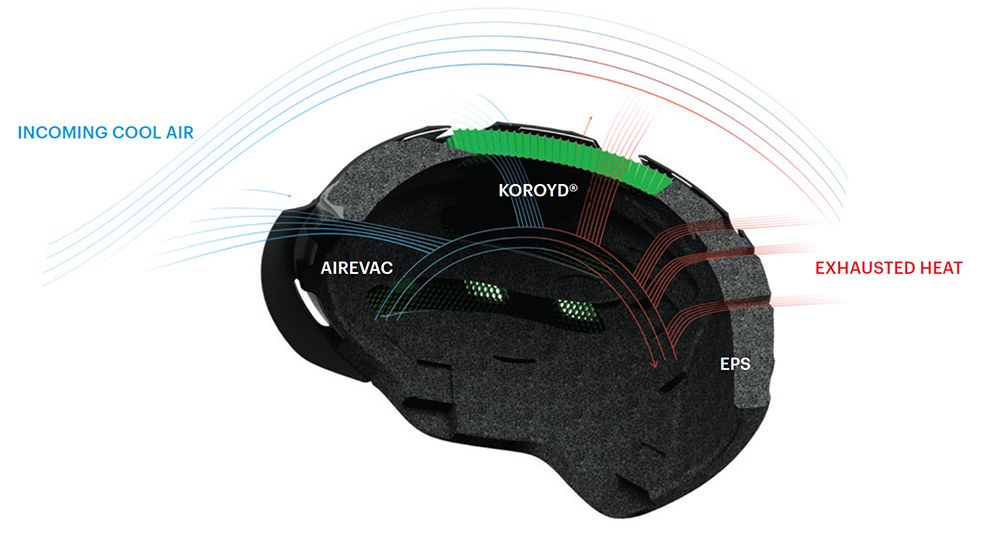 FOUR PRIMARY BENEFITS
Improved airflow and ventilation
Increased impact resistance
Reduce helmet volume and weight
Fog-free vision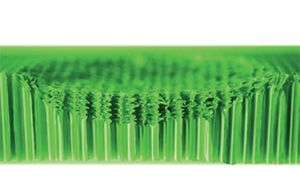 ENGINEERED ABSORPTION
The combination of Koroyd's® precise and unique thermal welding process
leads to a structure with both extremely efficient and consistent energy absorption
properties. Upon impact, the cores crush in a completely controlled manner, decelerating
the energy from the impact and reducing the final trauma levels.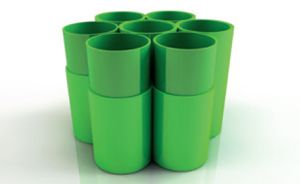 ENGINEERED PROTECTION
Thousands of co-polymer extruded tubes, thermally welded to create an
unparalleled consistent and fully engineered core. Each Koroyd® section
is engineered to precise durometer, size, and thickness specifications to provide
the greatest impact resistance and aesthetically consistent presentation.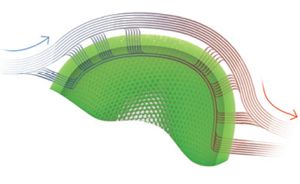 FULL BREATHABILITY
Koroyd® is an energy absorber which is fully breathable and doesn't compromise
impact performance. Koroyd's® open cell construction allows cool air in, while expelling
hot air from the rider's head. The completely open cell construction integrates with internal
channels to create the full Aerocore™ construction to provide ventilated protection.
MIPS technology-
Multi-directional impact protection system
MIPS is used to reduce the rotational forces to the brain in the case of an oblique impact. Smith helmets are created to absorb direct impacts very eff iciently and when combined with MIPS, Smith helmets absorb oblique forces better by allowing a small rotation of the outer shell relative to the liner.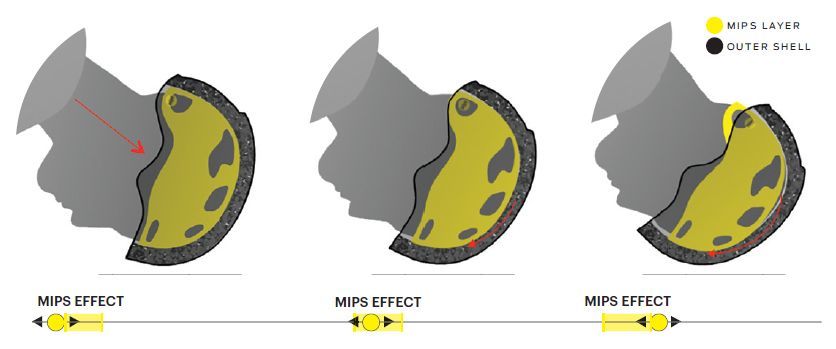 MIPS IN ACTION
When you fall to the ground at an angle rotational forces are generated. A helmet integrating MIPS technology creates a sliding layer between the outer shell and the head. This allows the helmet's outer shell to slide relative to the head when hitting the ground, so the rotational force is decreased, reducing the potential to damage your brain.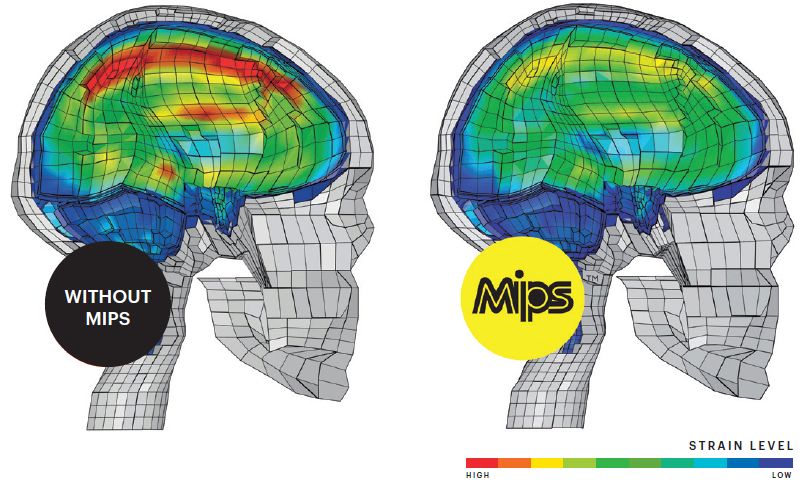 STRAIN LEVELS
Simulated deformation of the brain from angled impact when the user is wearing a helmet with and without MIPS.
---------------------------------Smith fit--------------------------------------
BOA® FS360-
BOA® FS360 FIT SYSTEM
Taking customized fit to the next level, Smith introduces the Boa FS360 Fit System. With a full 360 degree halo design, this system advances the category by offering both forward and lateral fit adjustments. Feel the fit system snug to the head in a full halo, allowing for a "floating" effect that eliminates helmet hot spots. Offering Boa's standard intuitive dial system for on-the-fly micro-adjustability, along with vertical adjustment options, the Boa FS360 Fit System is a best-in-class fit system, offered in Smith's market-leading Vantage helmet.
SMITH X BOA® FIT SYSTEM
The Smith x BOA® fit system is a custom developed, Smith exclusive piece. Building on the proven fit of our ergonomic head form, it offers an intuitive dial system for on-the-fly, single-handed micro-adjustment. This three-quarter haloed design offers key features of self-centering and vertical adjustability, allowing the user to achieve a perfectly customized fit.
DIAL FIT SYSTEM (DFS)
The Dial Fit System utilizes intuitive righty-tighty and lefty-loosey adjustment for quick, easy, on-the-fly adjustments and a comfortable fit every time.
LIFESTYLE FIT SYSTEM (LFS)
Built around the forgiving properties of elastic, the self-adjusting Lifestyle Fit System is designed to flex around the wearer's head, providing a dynamic fit that will move as you do. Additional lateral adjustability on the fit system arms allows it to accommodate a wide range of head sizes. With the Lifestyle Fit System, you'll experience comfort and mobility from a fit system you'll never have to think about.
FIT FINDER-
Because we know that finding the right fit can be the single biggest factor in a helmet purchase decision, Smith and Boa partnered to create the Smith Helmet Fit Finder. Use it as a measuring tool and find the correct sized helmet before taking one out of the box. Find the right size every time.